FAO Representation
Nepal
FAO in Nepal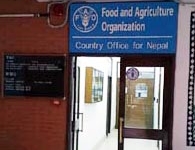 Nepal and FAO have enjoyed close cooperation since the country joined FAO in 1951. During more than 60 years of partnership, FAO has implemented over 200 projects, ranging from policy advice and capacity development to technical support and agricultural emergency assistance, including transboundary animal disease control. As Nepal continues to reform following years of conflict, current cooperation efforts are focused on innovative approaches to agricultural and rural development.
Enhancing capacity for emergency response

In response to the highly pathogenic avian influenza (HPAI) emergency in the Indo-Gangetic Plains, in 2007 FAO opened a Subregional Emergency Centre for Transboundary Animal Diseases in Kathmandu, covering countries of the South Asian Association for Regional Cooperation (SAARC).
Three years later, a Regional Support Unit (RSU) was established for the prevention, control and eradication of highly pathogenic and emerging diseases. The unit aims to strengthen the capacity of SAARC countries for delivering quality veterinary and public health services.
At the same time, as part of its regional and global initiatives, FAO is continuing to strengthen national stakeholders' capacities for surveillance of the new H7N9 strain. Field veterinary staff are being trained and prepared to provide rapid and appropriate responses to emergencies
and outbreaks.
Improvement of Regional Capacities for the Prevention, Control and Eradication of Highly Pathogenic and Emerging Diseases, including HPAI in ASEAN and SAARC countries. (See more on ... FAO Nepal 2015)
Projects
For projects from 2011 onwards click here ... FAO Projects 2011 onwards
Click here for List of Selected Projects from 1977 to 2010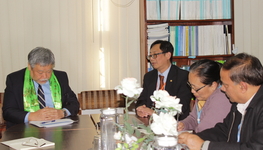 60 years of Nepal - FAO cooperation
Nepal became a member of the Food and Agriculture Organization of the United Nations (FAO) on 21 November 1951. Since that time Nepal and FAO have been cooperating to improve the agricultural and rural development of Nepal.
FAO was the first among the different UN agencies to start its office and field level work in Nepal focusing initially on agriculture and water resource management. During last 60 years of service, Nepal FAO office has made great strides in vital areas of agriculture and rural development by providing advice on policy matters and technical support in relevant sub sectors. It also mobilizes extra-budgetary sources in times of disaster and emergency to provide urgent humanitarian support.
The achievements of 60 years of cooperation is an opportune moment to reflect upon the successes achieved over those years while at the same time reaffirming the commitment and enthusiasm to maintain the momentum into the future. During these 60 years almost 300 projects have been implemented by the organization, embracing a broad range of programmes related to crop, vegetables, forestry, livestock, fishery, food safety, nutrition, planning,policy, rural development and environment conservation.
Likewise, through its Emergency Centre, FAO has been assisting the Government of Nepal in strengthening its capacities to control and contain transboundary animal diseases such as Highly Pathogenic Avian Influenza (HPAI). Towards that end a Regional Support Unit has already been established in Kathmandu. This unit is contributing towards strengthening and empowering the SAARC member states to deliver improved and quality veterinary and public health services in an effort to prevent, control and eradicate highly pathogenic and emerging disease.
FAO is a technical agency and has been supporting the Government of Nepal in an integrated approach to address its immediate priorities through capacity building, institutional improvement, food security-related issues, agriculture and rural development. Currently, FAO is supporting the Government of Nepal in operationalsing the Agriculture Perspective Plan (APP), which was approved in 1995 and that covers a period up to 2015. It also is collaborating with other development partners in supporting the Government of Nepal in formulating an Agriculture Development Strategy and a National Food and Nutrition Security Plan, both of which have a vision for 20 years. see more on ... FAO in Nepal 60 years
Sources

Level of Assistance (US$ Million)

Year

2007

2008

2009

2010

2011

Grant disbursements

1.673

1.927

2.925

9.857

5.815
on 12/05/2015
FAO Offices in the region: