FAO Representation
Mozambique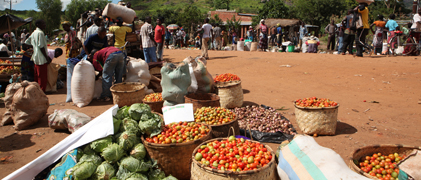 FAO in Mozambique
The Food and Agriculture Organization (FAO) is the United Nations (UN) specialized agency in food and agriculture, hence its motto: "Fiat Panis" (Let There be Bread). The FAO office in Mozambique is among the largest in the continent. In addition to its representational activities, the FAO structure includes programming, operational and administrative functions, as well as disaster risk management.
FAO in Mozambique is part of the network of decentralized offices that represent FAO worldwide, linked to its Rome-based Headquarters, the Regional Office in Accra and the Sub-regional Office in Harare.
Mozambique is a member of FAO, and as such participates directly in its governance through its active involvement in FAO´s decision-making bodies.
Agriculture: The key for Mozambique's development

With 75% of the people in Mozambique depending on agriculture for their livelihood and 70 % of the population living in rural areas, agriculture is and will continue to be the most important sector for the development of Mozambique's economy. Smallholder farmers account for 95% of the country's agricultural production and more value added can be gained by focusing on the production of small farmer households to increase agricultural productivity and to enable rural poor access to nutritious food. The country has the potential not only to become self-sufficient in food production but also to become a regional food exporter.
FAO's mandate
Achieving food security for all is at the heart of FAO's efforts - to make sure people have regular access to sufficient high-quality food to lead active and healthy lives.
FAO's mandate is to raise the levels of nutrition and to improve agricultural productivity and the lives of rural populations, thus contributing to the growth of Mozambique´s economy.
In the next 5 years, until 2015, FAO, as part of the United Nations "One UN" initiative, will assist Mozambique to achieve the Millennium Development Goals. In particular FAO will help Mozambique to:
reduce food insecurity and rural poverty;

ensure enabling policies and regulatory frameworks for food and agriculture, fisheries and forestry;

secure sustainable increases in the supply and availability of food;

conserve and enhance the natural resource base; and

generate knowledge on food, and agriculture, fisheries and forestry.
FAO focus areas in Mozambique

FAO has been active in Mozambique since 1979, carrying out integrated projects and activities aimed at reducing poverty and food insecurity, improve nutrition and management of natural resources. In line with its mandate and in response to the country's needs FAO Mozambique currently supports projects that address the following strategic areas taking into consideration gender and HIV/AIDS issues:
Food Security and Nutrition
Food Production, Animal and Plant Health and Production.
Rural Development
Extension, Agricultural Services and Systems, Trade and Markets, Post-harvest Losses Reduction.
Institutional Development
Policy, Legislation, Training and Capacity Building.
Environment and Natural Resources
Sustainable Land, Water, Forestry and Fisheries Management, and Pesticides Management.
Disaster Risk Management
Preparedness, Prevention, Mitigation, Emergency Response and "Building Back Better" (the transition to development).
FAO and the development challenges in Mozambique

FAO´s Country Programme is part of the United Nations Development Assistance Framework (UNDAF) which aims at minimizing disparities in the economic, social and governance areas of Mozambique's development. FAO focuses most of its efforts in the economic area.
Building on its comparative advantages, FAO provides technical assistance to Government, civil society and, to a lesser extent, the private sector, through projects funded by:
Government of Mozambique

Donors and international financial institutions

FAO's own resources
In addition, FAO provides normative support and a neutral discussion platform to its member countries.
on 15/03/2013
FAO Offices in the region: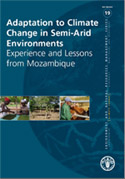 Adaption to Climate Change in Semi-Arid Environments
Experience and Lessons from Mozambique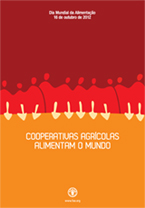 Brochura do Dia Mundial da Alimentação 2012
2012 World Food Day (WFD) Leaflet