FAO Representation
Gambia
FAO in The Gambia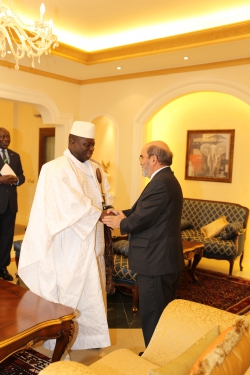 FAO Representation in The Gambia
FAO's mandate is to improve levels of nutrition, increase agricultural productivity, better the lives of rural populations and contribute to the growth of the world economy. The FAO Representation in The Gambia was established in 1979 headed by an FAO Representative with a staff complement of two to contribute to the fulfilment of this mandate in collaboration with the Government and other relevant stakeholders, Presently the Representation staff complement has grown to 8, including two Government seconded staff. The Representation is divided into three main Units, the FAORs Office, Programme and Finance/Administration.
Since the establishment of the FAO Representation in the Gambia, the work of FAO has been key in supporting the development of the agriculture and natural resource sectors primarily through the Technical Cooperation Programme, Telefood, Trust Fund, Emergency and various Regional programmes. During this period, FAO has implemented more than 120 projects supporting national efforts geared towards agriculture and natural resource development and has provided support to the creation of policies, programs and projects that contribute to improve production, productivity, food quality and national technical and institutional capacities.
The current FAO Representative in the Gambia is Dr. Babagana Ahmadu. Dr Babagana Ahmadu, a national of Nigeria, is a Doctor in Veterinary Medicine (DVM) from the Ahmadu Bello University, Zaria, Nigeria. He holds an M.Sc. in Tropical Animal Production and Health from the University of Edinburgh, UK and a Ph.D. in Veterinary Medicine (Livestock Development) from the University of Zambia, Lusaka, Zambia. Before joining FAO, Dr. Ahmadu was Director, Department of Rural Economy and Agriculture, African Union Commission, Addis Ababa, Ethiopia. Mr Ahmadu succeeded Mr. David Bowen as FAO Representative in the Gambia in October 2008.
FAO's primary role is to modernize and improve agriculture, forestry and fisheries practices and ensure good nutrition for all the population with special attention accorded to the rural areas, home to majority of the poor and malnourished people.
The Main function of the FAO Country Office is to assist Governments to develop policies, programmes and projects to reduce hunger and malnutrition; help develop the agricultural, fisheries and forestry sectors and to use their environmental and natural resource in a sustainable way.
In particular this is achieved by:
Developing, promoting and overseeing strategies for addressing national food security, agriculture and reural development objectives;

Developing and implementing FAO field programmes by identifying and formulating new programmes and projects and by liaising with local stakeholders including donor representations;

Helping governments to prevent disasters, assess damage, and assist them in the reconstruction and rehabilitation of the agricultural sector;

Carrying out public awareness activities and supporting important FAO activities such as Telefood, World Food Day and Rural Women's Day;

Providing assistance to technical and investment missions from FAO headquarters and from Regional and Sub-regional Offices to the country;

Serving as the channel of FAO services to governments and other partners (donors, NGOs, Civil Society Organisations, research institutions etc.);

Keeping FAO informed of major social and economic developments in the country and monitoring situation of the agriculture sector in the country;

Representing FAO before host governments and lal partners involved in FAO activities.

Represent the Director-General in the Gambia, develop and maintain relationship with the government and other institutions in the country.

Participate actively in the activities of the UNCT in the

country
FAO maintains a dynamic presence in the Gambia and enjoys an excellent working relationship and collaboration with key Government Ministries of Agriculture, Fisheries and Forestry, National Nutrition Agency, UN Agencies, the Private sector, key international developing partners, Non Governmental Organizations (NGOs), civil society and local communities to enhance agricultural production and strive to ensure food security.
The FAO's role in the Gambia also covers key thematic areas within the United Nations Development Assistance Framework (UNDAF) a process through which all UN Agencies collaborate with the Government of The Gambia and other development partners.
FAO is the UN Agency that has much MDG at the heart of its mandate and is responsible for working on Agriculture and all issues related to food production and quality.
In line with the global FAO mandate and the food security needs of the Gambia, FAO currently has around 11 different projects in operation, supporting and providing technical assistance for the Agricultural census - data collection and analysis, Capacity strengthening, rural aquaculture development, provision of household storage for coarse grains, marketing; poultry production; natural resource management; support to value addition and marketing, communication for development; strengthening of farmer organisations, water management, forestry, small-scale fisheries, sustainable use of pesticides, trade and markets. Most of FAO projects cross cut issues such as food security, value addition and marketing, nutrition, gender and rural development.
CURRENT SUPPORT FROM FAO The Gambia
FAO The Gambia continues to assist the Government through:
Normative activities: Normative activities are of major importance for an organization recognized as a centre of excellence in setting standards and servicing international conventions and intergovernmental instruments in the areas of its mandate.
Operational activities: Operational activities serve as the main vehicle for the provision of the Organization's technical assistance to its member countries. FAO has reinforced several major operational initiatives and programmes to mobilize governments, international organizations and all sectors of civil society in a coordinated campaign to eradicate hunger.
The field technical interventions intended to benefit Gambia's technical expertise accumulated in various fields related to agriculture, food security and natural resource management.
Improved Food Security and better Nutrition
Support to the South South Cooperation between Bangladesh and The Gambia

Technical Preparation for nutrition education in lower basic schools

Food Security through commercialization of Africa (FSCA)

Promotion of school gardens
Enabling Markets to improve livelihood
Promotion and diffusion of household metallic silos for grains/seed storage in The Gambia
Sustainable Management of Forests and Trees
Support to the National Forest Programme

Integrated Natural Resources Management of the Fouta Djallon Highlands
Sustainable Management and use of Fisheries and Aquaculture Resources
Protection of Canary Current large Marine Ecosystems

Support to safety at Sea for Small Scale Fisheries in Developing

Rural Aquaculture development
Emergency activities: FAO is assisting with distribution of seed, fertilizer, rehabilitation of garden fences and collapse wells and other inputs in response to the heavy rains and floods and other emergency situations
Environmental protection:
Soil erosion control, Sustainable natural resource management; Community Forest Enterprise management, Forest resource inventory and management,
FAO has regional and or national interventions financed by international donors and FAO bilaterally. These projects cover such aspects as prevention and fight against bird flu, the multiplication and agribusiness and food security. Furthermore, the technical cooperation projects (TCP) are funded from internal resources of FAO upon the requests of the Government. This includes
In addition to this, many TeleFood projects are implemented in The Gambia in response to proposals submitted by farmer's associations and communities, meeting the required conditions (poor families). Although small in scale and cost, TeleFood projects have been making large differences in the lives of small scale farming communities.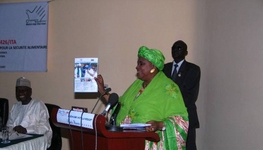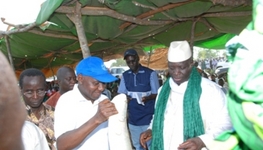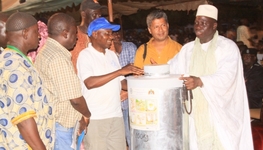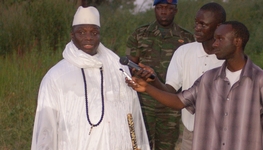 on 12/05/2015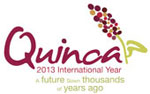 FAO Offices in the region: