FAO Representation
Armenia
FAO in Armenia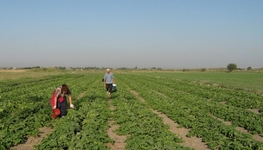 The Republic of Armenia became a member of FAO on 8 November 1993. The FAO Representation Office in Armenia was founded in September 2004. Since becoming a Member Nation of FAO, Armenia has received FAO's support in implementing various development and emergency projects aiming at increasing agricultural productivity and improving the country's food security.
FAO priority areas in Armenia include: improving the food security and standard of living of the rural population, enhancing the safety and quality of food products, sustainable management of natural resources, and institution and capacity-building to support the transition process to a market-based economy in the rural sector.
FAO activities and projects in Armenia offer the following comparative advantages:
• Strong partnership and intensive cooperation with the key Ministries of the Armenian Government;
• FAO's established position as a neutral partner both for the Government and NGOs;
• In depth knowledge of the transformation process in the agricultural sector in Armenia and in other transition economies;
• Successful collaboration with other United Nations system organizations, specifically with the United Nations Development Programme (UNDP), as well as other organizations including Embassies and donors based in Armenia; and
• High recognition of FAO activities, including dissemination of information and FAO work outcomes in the country.
For on-going FAO projects in Armenia please click here

on 15/03/2013
FAO Offices in the region: